SMS Broadcast
SMS broadcasting is a method to send bulk messages or text to a wide range of audiences. We use this technique for announcements, promotions, reminders, notifications, branding, and many more. It is better than email marketing because it will reach all required individuals more quickly and efficiently than an email or phone contact. For example, when you sign in to a new website, they send you a welcome message. Companies send their promotion text such as this promo code and tell you that you will get 25% off this product, used for employees' work anniversary messages, send messages to upcoming projects, and many more.
SMS broadcasting is the best way to save time because you don't need to call several people or compose a long email for promotion. It is a two-way process of communication.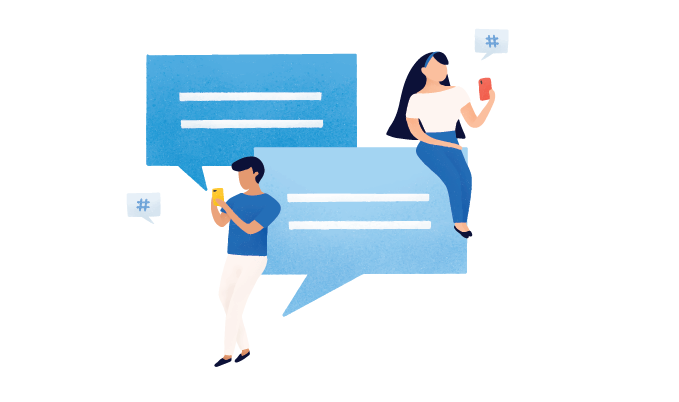 In an emergency, you might even use a broadcast message to alert your team of the issue and any cautious or required actions to take. We use this in many industries, such as hospitals, education, healthcare, real estate, financial, etc. Real estate agents send many messages to get a lead, banks send authentication messages or security messages to the customers, travel companies send notifications to inform the passenger of their flights, buses, hotel bookings, healthcare companies, send appointment reminders, and many more.
Features
Quick Delivery- When it comes to delivery, SMS is both rapid and effective. It requires only seconds to reach a large audience. It's best to send a customized message to an audience in such a short amount of time.

Quick Response- You can see analytical information like who has opened it, read it, and those who have reacted.

Marketing on a global scale- Everyone uses smartphones, so SMS marketing is the best way to approach people anywhere and anytime. It is the best way to contact many people in a single time. You can send your promotional messages across the world if you have the number.

Personalized- You can send a message directly to the individual person so you can make it personalized according to their names, interest, needs, etc. You have the number of people to contact them, and they are more responsible for the reply to the messages.

Automatic- It is software that enables you to have an automated process of emails, SMS, and other communications. Not only does it save time and make communication flow easier independently, but it also helps you to construct personalized and helpful campaigns by automatically adapting messages.

Less Expensive- Text messages are inexpensive, especially when purchased in quantity. No other marketing strategy, especially traditional marketing tactics like TV, radio, or print media, delivers affordable outcomes.

Grow Network- Customers may learn about goods, developments, services, and communications introduced in the 160 characters of the SMS about landing sites. To build a professional-looking page suited for mobile devices, all you need is a drag-and-drop editor.

Flexible- SMS broadcasting tools are very flexible; you can set the campaign according to your preference. Set delivery to pick the day and hour when your receivers will get your messages automatically. Established "do not disturb" periods to prevent delivery at night or on specific days of the week. To stop your campaign, change its information, and restart it at any moment, use the pause and resume sending feature.

Traceable- Anyone sending an SMS may get additional knowledge on delivery and failure rates and openings like clicks on links in the message, not only by the campaign but also by the receiver.

Productive- The option to schedule text messages allows you to save time when planning your campaign because you won't have to compose each message manually. You'll be able to target specific groups of people with customizable texts. This frees up time to focus on other aspects of the business, such as monitoring the large number of sales chances that will come from your SMS delivery shortly after it is sent.
Why Choose Our Solution?
We have a professional team of developers who are ready to take on challenges. We will help you grow your business and get more potential clients. Our goal is to satisfy our clients with our best services, and we develop software according to your needs.