What is call center solution?
A call centre solution helps organizations to handle direct and personal customer interactions. These are the products and services that solve the specific need for customer relationship management (CRM). Agents use this software to provide customer service for inbound communications and reach customers through outbound communications.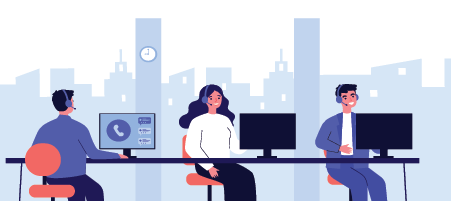 Which type of call centre solution is helpful for you?
There are many types of call centre solutions available in the market, and challenging to choose the correct one which matches your requirements. An inbound call centre is operated by a company to administer the incoming product or service support or information enquiries from consumers, and outbound call centres are used for telemarketing, for solicitation of charitable or political donations, debt collection, market research, emergency notifications, and urgent/critical needs blood banks. In Gventure, we provide inbound, outbound and fully featured solutions for call centre with proper CRM integration, which help you to increase your business revenue.
Where call centre solution is helpful
There are many industries and requirements where call centre solutions can be used to provide support services to their customers. Examples
Why choose us :
We provide a web-based call centre solution that offers a facility for businesses with no central location or several locations and allows agents to call from their computers. You don't need any specific type of technical knowledge to use our solution. It has all features which make it better than others.
Features :
Data Analytics Dashboard Create customized reports and observe call trends and agents' performance on your Call Center solutions dashboard

Call Monitoring and Reporting Supervise all calls made or received by your agents. Share relevant information with your agent remotely. Make agent-customer interaction better with call recording, barging and snooping in to deliver exceptional customer services.

Easy CRM Integration Integrate call centre solutions with all the leading CRMs and manage your customers much more refinedly.

Manage Inbound Operations Enable your agents to handle queries efficiently with Inbound solutions and provide better customer services over calls and emails. Intelligently route the calls to the most competent agents available in the queue to manage the agent's efficiency and deliver exceptional customer experience.

Manage Outbound Operations Make your sales proactive with various dialers such as preview dialers and predictive dialers to increase the agent's productivity. Auto dialers can easily detect when the call is connected with the customer and when it's an answering machine, thus reducing the agent's wait time.

Auto Dialer for Better Coverage Increase call connects rate using an autodialer and saves agents' time with intelligent operations. Reach to more customers with a predictive dialer, decrease the wait and automatically routes calls to available agents in the queue. Optimize processes and improve productivity wherein calls are connected to agents only when the customer has picked up the call.

IVR Flexibility Give your customers a seamless experience every time they call you. Personalize, customize, sound professional with our IVR solutions.

SMART ROUTING: If the agent is free, find the idlest agent, consider agent priorities if it is programmed. You can define the time of the day for the calls to be routed to specific agents. Applied skills-based routing rules to all activities so customers receive the best service from the most appropriate agent.
Some of the other features are
Ease to handle the script for the agent

Live call transfer to another agent without disconnecting.

Call queue holds callers in a waiting queue when all agents are busy.

Call control is used to handle call functionality such as hold, mute, conference, transfer and hang up.

Disposition Codes describe the final outcome of the call (i.e. not interested, follow up, transferred to tech, refund request, etc.)